A Special Blog Series Written by Hospicare & Palliative Care Services Staff
This November, we started a special blog series written by Hospicare staff in honor of National Hospice and Palliative Care Month. Because we had such a positive response to the series, we are continuing it past November and into 2022. Each post features a different member of our staff as they share why they love the work they do. In part five of this series, we feature Sarah Nickerson, Hospicare Communications Coordinator.
Sarah Nickerson, Hospicare Communications Coordinator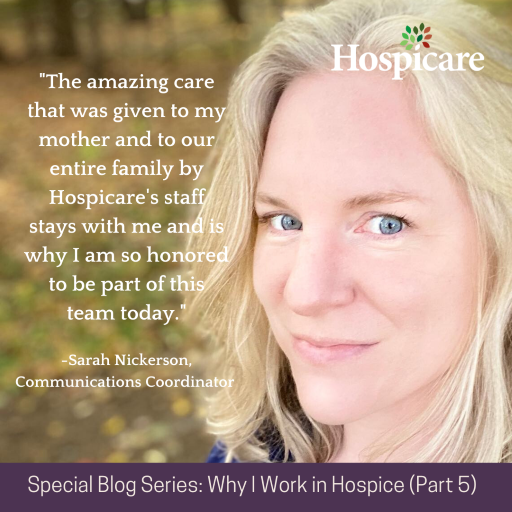 "Hi, my name is Sarah Nickerson, and I am Hospicare's new communications coordinator. I spent the summer helping Hospicare's development team with Women Swimmin' as the seasonal events assistant, and was hired into my current role by Sara Worden, director of development and community relations, in November. I am so excited to take on this role and help share the amazing work our team does and stories of the people we serve!
My relationship with Hospicare began many years ago. In my early twenties, I accompanied my mother, who was a Hospicare volunteer, to a bereavement group for children held at the residence on Kind Road. A few years later, I proudly waited on shore while she swam across Cayuga Lake as a participant in Women Swimmin' for Hospicare. In the summer of 2018, my mother was diagnosed with a terminal brain tumor and given less than a year to live. We were fortunate enough to be able to move her into Hospicare's residence for the final months of her life. Having my mother in care at the residence allowed us to be with her as loved ones and not caretakers, which we were ill equipped to be. Hospicare became a home away from home in those last two months before my mother's death: a safe space filled with love, where I could be nurtured by community.
The amazing care that was given to my mother and to our entire family by Hospicare's staff stays with me and is why I am so honored to be part of this team today. I look forward to continuing to help Hospicare provide our community with compassionate end-of-life care and grief support."
***If you have a hospice or Hospicare story you want to share, please email Sarah Nickerson at snickerson@hospicare.org for more information or send a letter to:
Hospicare & Palliative Care Services
Attn: Sarah Nickerson
172 East King Rd
Ithaca, NY 14850